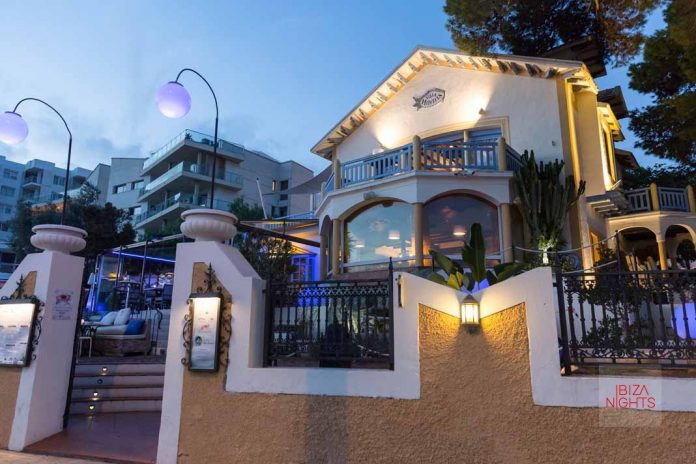 Cala Gracioneta, with the turquoise color of its waters or Villa Mercedes, with its views of the bay and the seaport.
Cala Gracioneta restaurant, located at the foot of the beach, is part of one of the most enchanting beaches of the white island, just like the name of the beach in which it is situated, Cala Gracioneta is a jewel on the west coast of Ibiza , Just 5 minutes from Sant Antoni.
The Mediterranean menu offers specialties such as fish and shellfish and exquisite dry rices.
At night, the place is transformed into a magical restaurant under the stars where you can dine while enjoying nature.
It also offers an exclusive cocktail service and delicious homemade desserts and ice creams. To enliven this pleasant atmosphere they have chill out music and live performances, Querencia on Thursdays, Paco Fernandez on Fridays, and various parties in which to enjoy authentic jazz.
On the other hand, Villa Mercedes is one of the most emblematic restaurants of the marina of Sant Antoni and its quality is due to bet on the freshness of the ingredients, the diversity of its dishes and the service of the highest quality.
These and many other qualities have led them to remain at the forefront, offering contemporary cuisine with tasty products accompanied by a selection of the best national and international wines.
They also respect the tradition and defend a kitchen based on the wood burning coal. As for example, grilled mussels of citrus and the entrecote of bison, not forgetting the old cow's ribeye of Galicia and the suggestions of native fish of the island.
And among their desserts, grilled pineapple with coconut ice cream or salted toffee. All this, accompanied by a cocktail list with a selection of cocktails that can be taken at any time of the day.
From these two restaurants you can enjoy without a doubt the most beautiful sunsets on the island.