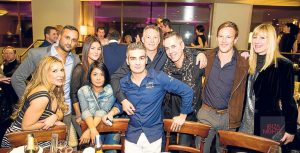 Blue Marlin Ibiza reunió en Londres a más de mil personas en un evento musical exclusivo durante la  celebración  de la London Fashion Week. Entre los invitados se encontraban conocidas estrellas del cine como Lindsay Lohan- invitada por Chanel- así como personalidades del mundo de la moda internacional.
Durante el evento, que se ha celebrado en el prestigioso distrito financiero de Londres, los Djs Jean Claude (Be Crazy), Neverdogs (Music On Ibiza), Headspace (Paravana Project), Duel, D.A.X, Vidal Rodríguez (Blue Marlin Ibiza), Nicola Marian Robinson (It´s Rude to Stare) y So:serious (Lica & Jay Medvedeva) transportaron a la capital inglesa la atmósfera que se vive en el beach club más reconocido de Ibiza.
Como es costumbre en Blue Marlin Ibiza, el día elegido para esta exclusiva experiencia fue el domingo, en el glamuroso e imponente local Art Deco Banking Hall, decorado con columnas de mármol y diseño de los años 30 que trasladaron a los invitados a un escenario propio de la famosa película interpretada por Robert Redford, The Great Gatsby.