The former Formula 1 driver Niki Lauda has returned to Ibiza in the spectacular Princess Too. The pilot is on holiday on the island with his wife, Birgit Wetzinger and their two twins, Mia and Max.
The mega yacht, anchored in the port of Ibiza, has 47 meters lenght and 9 meters beam. Princess Too was built in 1999 by Feadship, although in 2015 underwent a refit.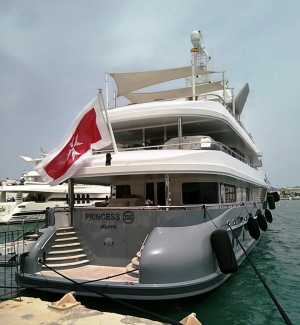 The ship has six cabins; one suite with jacuzzi, located on the main deck, a second VIP, and four twins cabins more, so it can accommodate 12 guests. The megayacht also features a spacious lounge on the main deck surrounded by large windows allowing light to enter and observe the landscape while browsing. Luxury is not only reserved for the inside, but also has a great equipment of a boat like this. Princess Too is provided with a stabilization system which reduces ultra modern rolling motion and offers results in a very pleasant experience navigation. The megayacht is also equipped with stabilizers that enhance comfort on board when the boat is stationary, especially in case of turbulent waters. Powered by two Caterpillar diesel engines 905, the boat can reach a maximum speed of 14 knots.
The former three times world champion of Formula 1 and Birgit, met in 2004 when she worked in the airline Niki, owned by the pilot. A year later, one of the pilot kidneys stopped working, and this young stewardess did not hesitate to donate one of their own. After several years of relationship, they got married in 2008, a year after the twins were born.
The whole family enjoy a few days in Ibiza, where they arrived on Saturday June 25 from Palma de Mallorca.